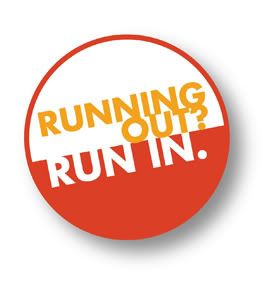 How many times have started to prepare dinner only to realize that you've run out of something you need? Yeah, me too. I hate that. I also hate to go to a store with 3 checkout lines open at the busiest time of the day. Fortunately that's never a problem at Publix. I love that I can run in and get out quick because they always make sure customer service is number one.
Publix is also great at providing events like the Running Out? Run In in-store event. Click here to go to the Running Out? Run In and learn more.
If you're running low on your favorite Yoplait yogurt flavor, Big G breakfast cereal or tube of Crest toothpaste, then head to Publix® during the Running Out? Run In. in-store event so you can purchase the everyday products that you love and need more of! Receive rewards for stocking up on some of your favorite General Mills and P&G products at Publix during the Running Out? Run In. event this February.
From Feb. 9th through Feb. 14th, look for the "Running Out? Run In."event at your local Publix store and "run in," to take advantage of the great savings available on some of your favorite brands from General Mills and Procter & Gamble, including Yoplait yogurt, Cheerios, Charmin, and Crest
Also, don't forget to look in-stores for over $14 in coupon savings – coupons are valid Feb. 6 through Feb. 25
* $2 off of Totinos's Pizza Rolls 90ct
* $1 off of Lucky Charms Treats , Golden Grahams Treats, or Milk n' Cereal Bars
*$1 off of Giant Create a Meal Stir Fry or Just for One Frozen Vegetable 14- 19oz
* $1/10 off of Yoplait Yogurt Cups 4-6oz
* $2/2 off of Yoplait Yogurt Kids 4 pk/3oz, Trix 4 pk/4oz, or Gogurt 8pk/2.25oz
* $1 off of Crest Toothpaste 4oz+
* $2 off of Pampers Diaper 20ct+
* $1 off of Cascade complete
* $2 off of Bounty 6 roll+
***Receive a $5 Publix® gift card to use on your next shopping trip when you purchase $30 or more in participating items during the event (2/8 – 2/25); simply mail in the rebate form found in-store or online at runningoutrunin.com along with your original receipt(s).
To help you get started at the Running Out? Run In event, one of my Cotton Pickin Cute readers will win a $25 gift card. That could be you!
To Enter:
Please use the Rafflecopter form below.
a Rafflecopter giveaway
Disclosure: The Publix gift card, information, and giveaway have been provided by General Mills through MyBlogSpark.