Poor Neil. Every night I keep saying I'm going to come up with something different for dinner. Well tonight I finally did.
It seems I'm always making
the same old meat and potatoes type of dinner. Even though it's fast to thow those together, I have to stop right in the middle doing something else to put it all together and then it seems like a mad rush. After rushing around and smelling it I'm really not feeling that hungry. By then I'm just ready to sit Neil's plate down and crash.
It only takes 15 mins to prep this dish, 40 mins to bake and it serves 4. I like the idea of putting this together, being able to get my kitchen all cleaned up, then sliding in the oven later when I'm ready.
By the way this is not a paid review post. I just thought I'd share what I did in the kitchen today. Be sure to read to the end.
It's called Monterey Chicken Tortilla Casserole. The recipe only has 8 ingredients. Love that!
1 cup coarsely crumble tortilla chips

2 cups cubed cooked chicken or turkey

1 can (15oz) cream-style corn

3/4 cup Pace Picante Sauce

1/2 c sliced pitted ripe olives

2 oz (about 1/2 cup) shredded Cheddar cheese

chopped green or red pepper

Tortilla Chips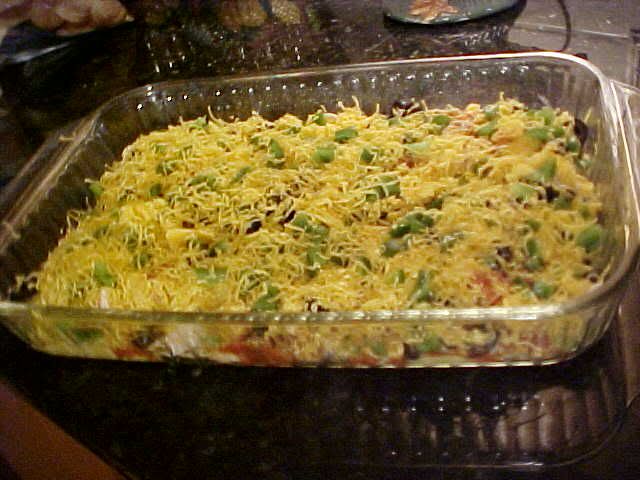 I grilled the chicken in some olive oil and then chopped it up. Layer the crumbled chips, corn, and picante sauce in a 1-quart casserole. The recipes says to add the pepper after it's done. We don't like ours crispy so I added mine and then added even more cheese on top before I put it in the oven. (I sprayed my dish with Pam first, for easy cleanup).
Bake at 350 for 40 mins or until the mixture is hot and bubbling. Serve with the chips.
While Neil thought it was good. I thought it was just wasn't quite a meal. Even with a salad. It taste great but not dinner great. I mean it does say "casserole", which to me = dinner, right? Wrong. I think I just served Neil a party appetizer for dinner. Oh' no - say it ain't so. Poor Neil never complained but now I know why it didn't really seem like dinner. When typing this post my eyes fell on the line that said "serve with chips". Oh' well at least I tried.
If you have a good dinner recipe PLEASE send it to me. I'd love to try something new. Or better yet maybe you'd like to do a guest post! I know Neil would be so grateful to you. I'd be a happy camper too.