I love the way the light plays in the water. Even after dark the lights across the river sparkle like rays of light across the water.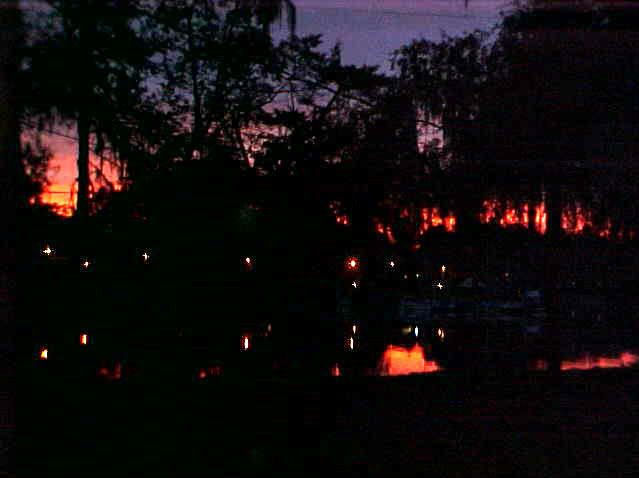 I love the weather we're having. Such clear sky's without the summers heat putting a big ole' haze on it. I had to grab my camera when I saw this beautiful view out my window. I really enjoy getting a few cold days before summer but it's days like today that are really beautiful. It's 66 degrees now and only went up to 72. Just gorgeous. Especially when I think of my sons family in N.Y. experiencing a high of 27 degrees.
I rushed out to the porch and just in time to get a couple of quick shots before it faded away. I took deep breaths looking at, suddenly realizing how fleeting it was, never to be seen again. Just looking at it made me relax and think about how every day is unique with it's own special blessings. All we have to do is look for them. The photo below is the reflection of the sunset on the water.
Neil called some friends today to thank them or just check on them and it made me smile to see him doing something for himself and reaching it just to say hey. Then he went outside to measure the cottage to see what he needed to build some shelves and get it organize again. I smiled! I don't know if I mentioned it but he's lost about 40 lbs in the last couple of months. Oh' and last night we went for a walk together and it was so relaxing. Laughing and talking, I loved it.
Yeah, I know, I was blessed.
Did you notice something beautiful in day? I'd love to know.