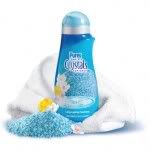 Thanks to everyone who entered the Crystals Purex complete giveaway. I was so happy that so many of you participated. Random Generator choose 3 winners.
The 3 winning comments were:
Comment #20 -
~Tonja~
@
Woods Olde Homestead
said...
New follower through GFC...
Comment #19 -
Sandy
@
521 Lake Street
said...
Tracy,
We have to meet face to face and that is all there is to it! :):) Here is my second entry, so you don't forget to put me in twice! Your are such a sweetie!!!!!! Sandy
Comment # 1 -
Heidiopia
@
What's on Heidi's Mind
said...
Hmmm... I a loyal user of a competitor, but being able to use it with towels might just persuade me. Would love to win so I could give it a try! Thanks, Tracy. :)
Congratulations Tonja, Sandy and Heidiopia. Please send me your mailing address so I can get your coupons for your free bottle of Purex Complete Crystals to you right away.