Last month was chosen to be a Purex Insider. I love getting to try new products. The only way I will post a review is if I try the product so I know all about it and I can tell you what I truly think of it.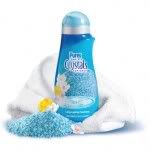 Let me give you a little background first. I had seen the advertisements. I had seen the Purex Complete Crystals Softener in the stores and of course all around blogland. To be honest I wasn't going to buy it. I just though okay, a new way to sell a much used product in a new form. Well, I'm glad I was asked to review the this and I'm even more happy to say how wrong I was.
One of my biggest things is to have fabrics and clothes smell good. I'm not just saying that either. I have been like this since preteen days. I want a laundry detergent that not only really cleans but also smells amazing. It doesn't stop there, fabric softener is a must, as well as dryer sheets. It doesn't stop there I also use scented linen spray to iron with, put on my sheets, etc... You can find me spending an inordinate amount of time in the detergent aisle smelling every bottle that's new before deciding if I might want to make a change.
I've always had one pet peeve with fabric softener. I couldn't use it on my towels. How could that be? I want them to smell better than almost anything. But if you use fabric softener you loose the absorbency . Tradition fabric softeners leave behind an oily residue which interferes with the absorbency. Well, good news girls (and guys), I'm happy to announce that's not a problem with Purex Complete Crystals.
For the first time in years I was able to use a fabric softener with my towels. They smelled so good!!! And the crystals were so easy to use. No filling the little fabric softener ball, just put the correct amount right in the washing machine drum. That's right pour them right in with the clothes. What could be easier?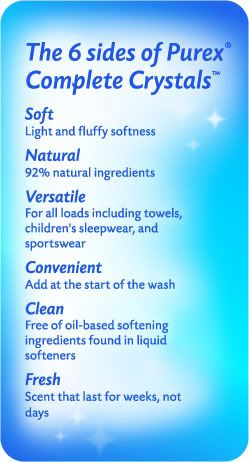 My clothes and towels came out smelling wonderful and as soft as could be. No dryer sheet was even needed. You would be surprised at just how little you add to your load too. So I found out that this is actually more more affordable, easier to use and best of all my towels now have a wonderful scent too. I'm a happy homemaker- hee-hee.
I'm so glad Purex proved me wrong because I have been pretty loyal to one product for years. So this is a win - win for me and I'm sold. Three reasons I'll be buying it:
It solves a problem. I can now wash my towels with fabric soften.

Greener choice, less waste because I no longer have to add and dispose of dryer sheets.

Money saving. It doesn't take much and I don't have to buy dryer sheets
If you can't wait to win it you can buy It:
Purex Complete Crystals Softener is priced from $3.99 to $5.99 depending on the retailer and is available in food, drug, and mass retailers nationwide. (They have it at my rural Wal-Mart…odds are your local store has it!)
Or you might be lucky enough to WIN IT:
One

THREE

(that's right,

THREE

) of Cotton Pickin Cute's readers will win a full bottle of Purex Complete Crystals Softener in the scent of their choice!
Mandatory Entry:


Follow Cotton Pickin Cut via Google Friend Connect and leave me a comment with your email.



Extra entries


-Like Cotton Pickin Cute on Facebook (+1)

-Follow Cotton Pickin Cute on Twitter (+1)

-Tweet this giveaway "I just entered the Purex giveaway @ Cotton Pickin Cute @
http://tinyurl.com/4dq3n87"
-Blog about this post with a direct link to this giveaway. Then leave me a comment with the link so I can check it out! (+5)

-Enter this giveaway in a linky (aside from my own). Leave me a link and the # on the list. (+3)
The giveaway ends March 11, 2011 at 12 midnight EST. Be sure to leave a separate comment for each entry. If you get 2 entries please leave a comment for each on.
Random.org will be used to choose the winner. I will email the winner as well as announce it here on Cotton Pickin Cute. The winner will have 48 hours to respond before a new winner is choosen.
I received a product in order to complete my review as a part of the Purex Insider Program. As always I used the product to form my on opinion of the product and these are my own words. I was also provided with 3 vouchers for a free full size bottle of Purex Complete Crystals to giveaway.
Transpar
ency is everything
.