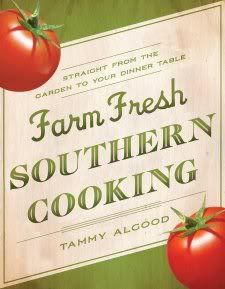 No big Italian meals at our house. No French cuisine either. Not that I don't like both of those. But I'm a Southern girl born and raise and Southern cooking is an art form in simplicity.
Southern cooking was a learned art of "make do" with whatever was plentiful. Women like my grandma would use mostly home grown foods and dare I say even hand slaughtered. Nothing went to waste back then. If it was left over it was recreated. Everyday she prepared breakfast, dinner and supper. There were rarely meals away from home. But her loving hands created the best meals I've ever had. Even though my grandma died in the 70's when I was only 15, I can almost taste those dishes when I think of her table.
Those memories are what made me want to review "Farm Fresh Southern Cooking" by Tammy Algood so much. With today's busy lifestyle and quick meals I never got to learn all I would have liked to about home cooking in that old tradition.
Tammy Algood's book is a celebration of Farmers Markets. Farm Fresh Southern Cooking honors these growers and craftsmen with a selection of recipes created to showcase the flavors of the Southern earth.
This book will especially appeal to vegetarians since it's all about food grown from the land. You will find meat in some recipes but most are without it. Just a few of the recipes that sounded scrumptious to me are:
Coconut Fried Shrimp and Florida Citrus Dip

Cheese~Filled Banana Peppers

Balsamic Grilled Eggplant

Vinegar~Splashed Bacon Butter Beans

Easy Crust Chicken Pot Pie

Traditional Southern Pot Roast

Orchard ~Fresh Peach Cake
I wasn't disappointed in this cookbook one bit. I think we're all looking to go back to the basics in this recession era we're living in. Farm Fresh Southern Cooking makes the basics seem like anything but.
I'm proud to have Farm Fresh Southern Cooking in my cookbook collection.
Disclosure: I received a copy of this book for review purposes. The opinions expressed are my own and were NOT influenced in any way.