This is a sponsored post. Neoteric Cosmetics & Scott's Liquid Gold provided a product to facilitate this review. As always all opinions are 100% my own.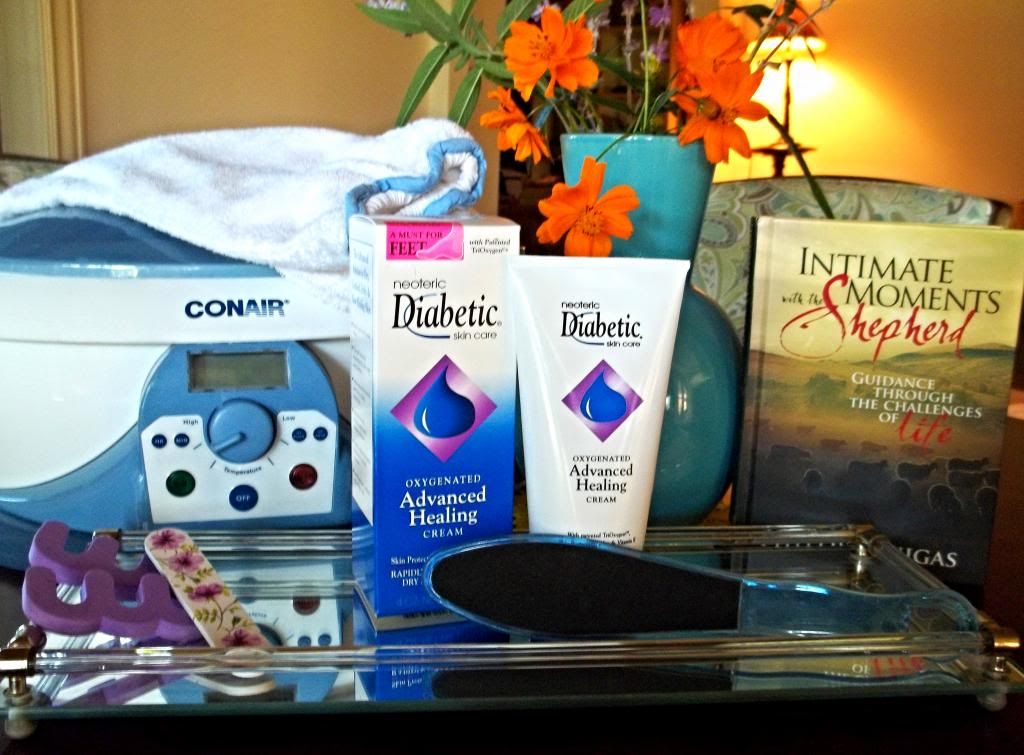 Sometimes you've just got to pamper yourself. The photo above shows you my go to pampering when I need a pick me up, minus the masseuse to massage my feet. I gather all my supplies which include:
My Conair Paraffin Spa

Foot paddle to exfoliate the dry skin

Toe separators

Nail file

A book to relax while letting the paraffin do it's thing

Neoteric's Advance Healing Cream

The flowers are a bonus to heighten my relaxing experience

And soothing background music doesn't hurt either
Our feet are very important. Hey they are the work horse our body depends on. They need special attention. Diabetics really have to take care of their feet but it's really something we all should be doing.
November is National Diabetes Month. Makes sense with it being a month celebrating food, right. And November 14th is Nation Diabetes day. To bring awareness to this epidemic I want to tell you a few facts about Diabetes, as well as share a product I found with you. Keep reading and find out how you can win too.
Did you know that Diabetes is one of America's leading killers and is the number cause of Kidney failure, lower non-traumatic limb amputations and new cases of blindness among adults in the US? And the epidemic is growing. According to the American Diabetes Association, if we don't act soon one in three American's will have diabetes by 2005. Those are some pretty scary statistics!!
I have several family members and even friends and neighbors who are diabetic in various degrees and it scares me. I worry about them and even start worry about my own sugar. Not surprising since I'm the sugar craving queen. I bet you know at least one person affected by Diabetes too.
What is diabetes?
Diabetes is a chronic disease that occurs either when the pancreas does not produce enough insulin or when the body cannot effectively use the insulin it produces. Insulin is a hormone that regulates blood sugar. Hyperglycaemia, or raised blood sugar, is a common effect of uncontrolled diabetes and over time leads to serious damage to many of the body's systems, especially the nerves and blood vessels.
347 million people worldwide have diabetes. In 2004, an estimated 3.4 million people died from consequences of fasting high blood sugar. A similar number of deaths has been estimated for 2010. More than 80% of diabetes deaths occur in low- and middle-income countries.
Prevention
Simple lifestyle measures have been shown to be effective in preventing or delaying the onset of type 2 diabetes. To help prevent type 2 diabetes and its complications, people should:
achieve and maintain healthy body weight;

be physically active – at least 30 minutes of regular, moderate-intensity activity on most days. More activity is required for weight control;

eat a healthy diet of between three and five servings of fruit and vegetables a day and reduce sugar and saturated fats intake;

avoid tobacco use – smoking increases the risk of cardiovascular diseases.
I have dry and cracked feet (years of going barefoot - I live in Florida for goodness sakes) and I faithfully rub cream on my feet at bedtime. It helps immensely. But not all creams are the same. I like a really thick one that doesn't leave a greasy after feel.
Even though I don't have Diabetes, I do have mild Psoriasis and like I said I like to use cream on my feet. I can stand any scaley skin to pick at the sheets. You know that's happened to you. Yuck! Well, that's why I more than eager to try Neoteric's Diabetic Advanced Healing Cream.
Let me just say Neoteric's Advanced Healing Cream is GREAT! It doesn't take much and it's perfect to use on feet, hands, fingertips, elbows, legs and knees. The patented TriOxygen is clinically proven to increase skin's own natural defenses. Their unique blend if therapeutic conditioning agents induce superior deep moisturization to renew and protect. As their tube of cream states "Provides immediate soothing action as it quickly restores skin to a healthier, soft, smooth texture". It does just what it says too.
I've been using this Aloe & Vitamin E enriched cream for a month now and once it's gone you find another tube in my bedside table - that's just how much I like it. You can readily find it on store shelves everywhere. I found it here at Publix priced at $9.99. Worth every penny I tell you!! I find myself going to the bedroom throughout the day just to get a bit for my hands. It really soothes and makes them feel so good. Don't let the word Diabetic stop you from using this awesome cream. If you want soft supple skin - you want to use Neoteric's Advanced Healing Cream.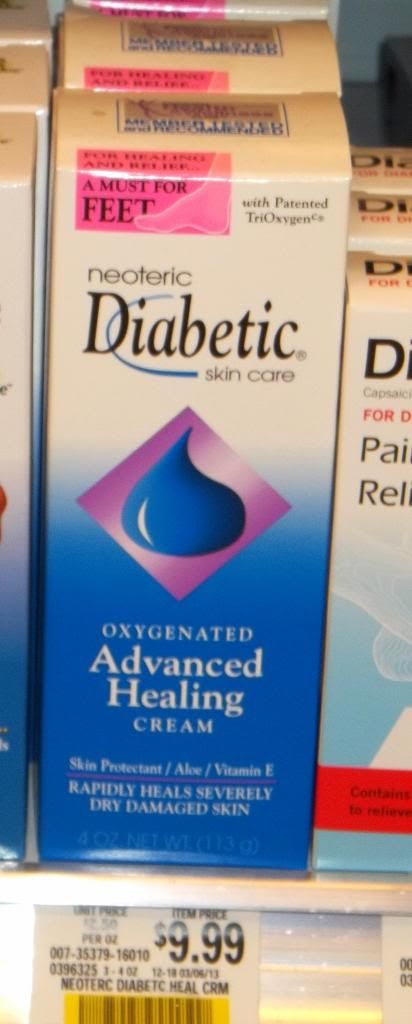 Neoteric Cosmetics has a whole array of products that you would love. Visit their website here:
Don't fret y'all. I'm gonna do y'all a solid too. I'm giving a super prize pack away to one CPC reader too! Thank's Neoteric Cosmetics and Scott Liquid Gold!! They are generously providing the winner with:
"2"

Tubes of Advanced Healing Cream

and 1 container of Diabetic Shampoo & Scalp Care
If you don't want to wait to see if you win my giveaway why don't you contact Neoteric for a FREE sample. They're such a great company. They're offering free sample packets of the Diabetic Cream while supplies last. Just email them at:
samples@slginc.com.
Be sure to add this to the subject Line: Diabetic Cream and *be sure to include you name mailing address in the email. It would be nice if you told them I sent you but it's not necessary.
To enter my giveaway all you have to do is enter using the Giveaway Tools form below for a chance to win.
Entry
-Form
You'll see in the giveaway form that my friend Julie over at Mamawj's Moment Away is also having this same giveaway. Be sure to visit her for an extra entry on my giveaway and enter her's so you also have more chances to win.
Good Luck Y'all...