No, I assure you I'm not surfing but my family is. A quick stop by Aqua East Surf Shop and they're headed to Amelia Island for some surfing. My sister and I grew up spending all our summers in Fernandina Beach on Amelia Island. I raised Ty on these beaches and I love seeing him doing the same thing with his family. It's such a great place on only about 40 mins from Jacksonville. (Checkout my Purex Bab

y

Giveaway at the bottom - it ends to

night - 3 Winners).
After falling on Dec 21, I having been staying off my feet unless it's really important. Christmas eve and Christmas, I spent way to much time on it and did more damage than it was worth. I though I'd be able to get away with The Gator Bowl Parade yesterday, that wasn't a good i

dea

, but N

eil and

I really enjoyed some one on one time with Zach for his birthday, so I'm glad w

e did it. M

ore on that in a

nother post

.
When I fell, I think I did more than a bad

sprain.

I thin

k I really

messed up

the ligaments
in my ankle. I'll be seeing my Dr. to find out more on Friday. I just kept thinking it needed time to heal but I'm concern it's a little more than that. With all the pain I've had, I don't even feel like reading, working on the internet or much of

anything else.
So I've neglected a lot of internet friends but you wouldn't believe how much I think about ya'll. Yup - guilt with blogging. Shoot my little finger, that I slammed in the do

or

just started healing (took FOREVER) when I fell. Before that it was foot surgery back in April, that took MONTHS to heal. I hope this trend's ended with 2012 and now it's just a matter of healing from this one but considering that I have a stomach bug today I'm not so sure. UUUGGGHHH

...
This is my grandkids first New Year's in Florida and I'm glad that Ty and the family are making the most of it.
Zach and Ki'a got surfboards for Christmas and they got their wetsuits yesterday. Ty's giving Ki'a her first waxing lesson. She's been so excited about learning to surf. The board was tops on her Christmas wish list. She's rocking her little Quick

Silver wetsuit and Bob Marley board pad!
Zach's rocking his new Quick Silver suit too and waxing up his board for his first trip in for 2013 and his first surf lesson too!
The salt water is really great for CF patients, so I'm really happy that he loves the beach!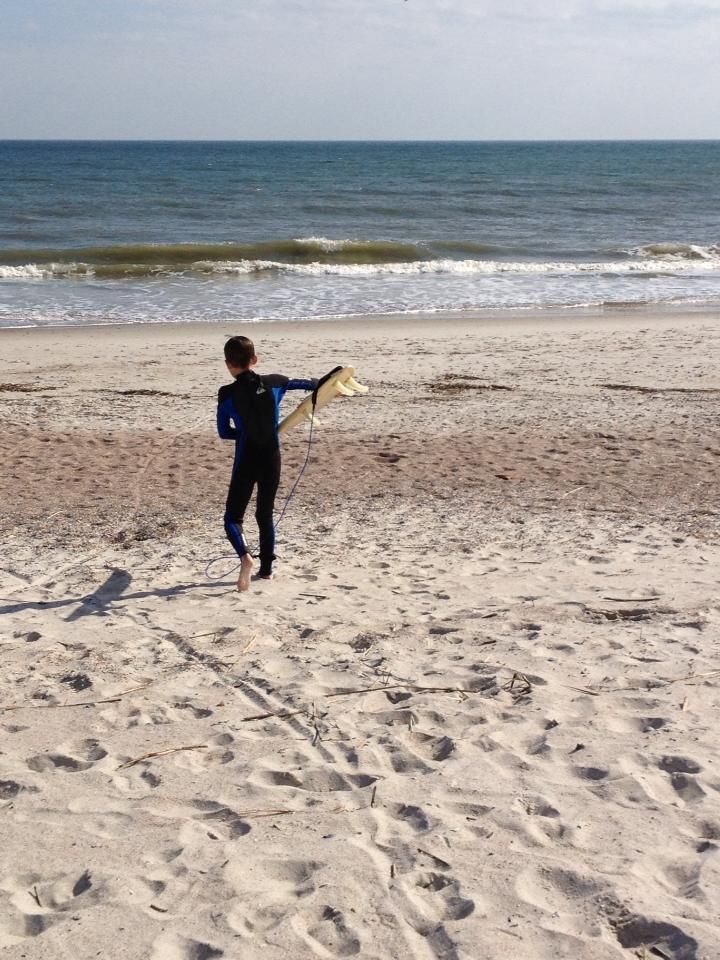 There he goes my fearless boy! The first day after turning 12 and the first day of the year. If the old adage is true about whatever you do for the first day of the New Year sets the tone for the rest of the year - well lets just say they're in for a lot of fun

.
Perfect 1st day of the New Year with

temperatures

in the low 70's. Waves were small with is just what the kids needed for first lessons. We're really blessed here in Florida. Well that is until summer and temperatures in the 90's for long, long months

. lol!
I'm so happy that Ty and the kids have this love of surfing in common. Christal is so good about taking pictures so even though I'm not there I can enjoy seeing how much fun there having. Like I said it's a whole family experience for Mom, Dad and the Kid

s.

It's going to be a great bonding experience for all of them. Ty's best friend Benny is working with Zach, (thanks Benny) so Ty can work with Ki'a. My heart is full

........
I hope all of ya'll are enjoying a blessed New Year today and that 2013 brings you more blessing than you can count

!
P.S. Don't forget to enter the Purex Baby Detergent giveaway here. There will be 3 Winners!!! It ends at mi

dnight EST.