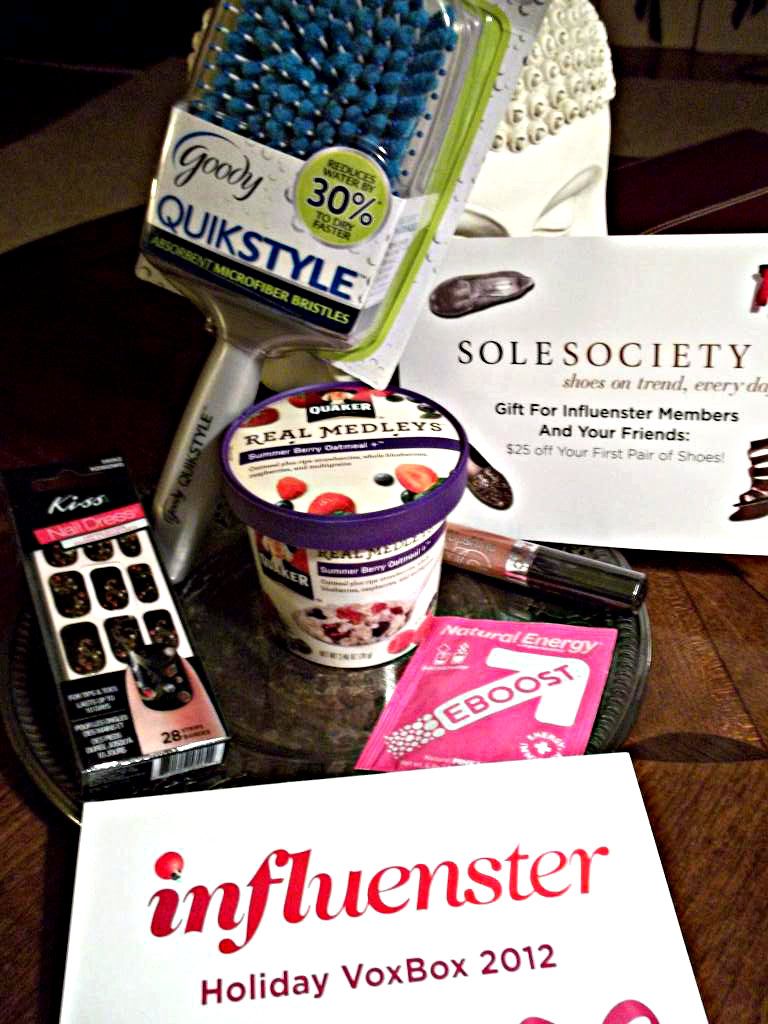 There's a new Influenster in town (That would be ME). Que the Western theme music. What is a Influenster you ask? Well the picture above will give you a hint.
noun
An exclusive online community where tastemakers and trendsetters (such as yourself) come to share the latest and greatest news, places, products, and reviews with each other. 2. The hotspot you just bookmarked on your web browser that turns your social influence into sweet rewards.
Basically, Influenster is a place for culture junkies to come together and share their unique opinions of products and experiences. Active members of Influenster get exclusive access to deals, promotions, and swag from brands that thrive off the input (the good, the bad, and the ugly -- they just want to know what's up).
Pretty easy to understand concept and it's even more fun to be a Influenst

er.
I'm really excited

that I was

chosen to receive a Holiday VoxBox. You know how much I love trying new products and sharing my opinions with you. It was like getting a Christmas present of full size products just for

me.
~~~~~~~~~~~~~~~~~~~~~~~
So lets break it

down and see what we've got.
Quaker Real Medleys Oatmeal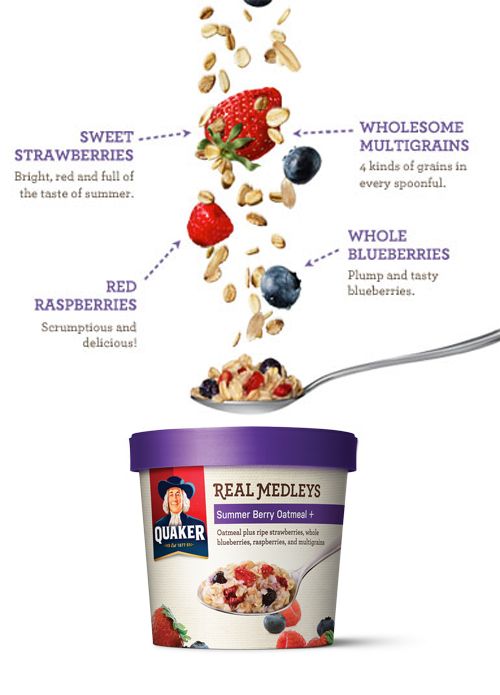 First I have to say that I'm not a fan of oatmeal. I think it's just a Southern thing, you know growing up on grits and such. Combine that with Florida winters and you're more likely to want cold cereal than hot oatmeal. Really it was 80 here today January 13th! Also I never liked the mushy texture of oatmeal.
With that being said I told Neil he could have this one but I did have to have a bite or two. And guess what...I was pleasing suprised! It was different than other oatmeals I had tried. I think the multi-grains and fruits gave it a little more texture. The flavor was naturally sweet and I didn't need to add anything other than the hot water. Neil really like the burst of fruit flavor and that it has all natural ingredients. He also thought it was very filling. We both liked the convenient single-server cup. It's so easy to prepare just add hot water or microwave. Priced at $1.79 per cup, it's a little more than I like to spend but I will be watching for coupons to combine with sales and buy a few to keep in the pantry.
NYC New York Color Liquid Lipshine
My Opinion:
I love make-up and lipstick is my #1 make-up must-have. I happily put this to the test. The shade I received was "582-Nude York City". When you open the tube I noticed a soft vanilla scent - yu

m. And e

ven though at first glance it looked kind of goldish it wasn't. It's a very neutral shade but not totally nude because it has this fine micro sparkle. I like to stay away from overly glittery lip gloss.
This is nude enough to where to the beach and at the same time look great with a black dress for a night out on the town. It looks glossy yet doesn't slide off your lips and wears really well for a long time. I also notice a lite tingle on my lips when I applied it, like a bit of mint, which I liked. It never crease

d in my lip lines and wasn't sticky.
It applicator made it easy to apply and it went on smooth and kept my lips feeling moist and soft. I was really surprised to see that it retails for $2.49!! How affordable is that! There are 9 other shades and at that price you can buy all 10. NYC Liquid Lipshine gives you way more than you would expect at a $2.49 price

point.
My Opinion:
Although this wouldn't have been the design I would have chosen I can see the attraction for this product. They're super easy to apply and it only takes minutes and it's even easier to remove. Think of all the fun that you could have changing these with your changing moods and outfits. I have thin nails and I no that polishing them as well as using polish remover causes them to split. With Kiss Nail Dress you don't even need remover so there's no drying out of your nails! That's a big plus for me. They feature 3-dimensional jeweled designs and you can even use them on your toenails. Sounds like the perfect summer accessory. Priced at $6.99. That'

s a lot cheaper then a manicure and faster too.
My Opi

nion:
EBOOST claims it will boost your mood, focus and immunity with natural ingredients and no crash. I received the Natural Pink Lemonade flavor packet wich you add

to water

. I can't tell you if it gives you a boost or not because I couldn't get past the taste. To me it leaves a weird after-taste in your mou

th.

Since I'm not an energy drink person I can't compare it to others in the same category but the price looks a little to high to use on a daily basis. It retails for $28 for a box of 20 effervescent powders, $39 for a box of

30 effervescent powders, $39 for a box of 12 shots.
My Opinion
This is the first hair

brush I've ever seen that looks like it has a towel built in. lol.

I was a little skeptical of Goody's claim that this microfiber bristle brush would make a differ

ence in the drying time for my hair.

But that's just what made it so interesting for me. For years I've had hairdressers say in a surprised voice "your hair really holds moisture and takes a while to dry"

.
Well Goody lived up to it's claim of "reduces water by 30% to dry faster". I'd go even further and say by perhaps 50%. The brush comes in both a paddle

like I

received,

or half round

styler

. It's a light weight plastic which is easy to handle. The brush is designed

for detangling wet hair.
The package claims that the "antimicrobial microfiber keeps the brush fresh" and "This brush is protected by antimicrobial properties to inhibit the growth of bacteria". Well we've all used those kitchen sponges that say that too and I know my have not quite held up to those claims. After using the brush for a couple of weeks it seems fine but time will tell. The design

does have side

vents that help the brush dry out. The brush retails for $11.99

.
I also received a code for $25 off my first purchase at Sole Society. Sole Society is a chic brand of exclusive high-quality, on-trend shoes, starting at only $49.95. I didn't purchase anything but saw some nice styles. You can visit them at www.

SoleSociety.com
So there you have it. My honest opinion

s good and bad. I know that's what I'd want to hear.
Disclaimer: I was provided with these products for FREE via Influenster. I was NOT compensated for my opinion, which is 100% honest and my own.