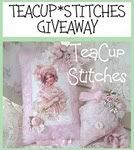 I know I haven't been having much time to get around blogland lately but it's just seriously wrong that I didn't know about this new blogger. Lynn has only been blogging since March 22nd. Yes, that's March 22nd of this year and she already has 178 followers. And no wonder! One look at her creations and you can see why. Her pin cushions are to die for! Is it wrong to feel sick on your stomach because you know you'll never be that creative? I know I'm coveting her talent which is a sin, but I've been breaking that commandment so many times over since I found this blog world. I really have to get over this envious thing, green never has looked good on me. There are just so many TALENTED people out there. I mean crazy talent!!!
Well she is hosting a giveaway to celebrate 100 followers, which will be 200 before this giveaway ends, on her young blog Tea Cup Stitches I'm sure. Just look at all that

pink

goodness that she is generously giving one lucky person. Her giveaway ends on June 14th, so don't be late. Stop by and meet her if you haven't yet and enter her giveaway. I can't wait to go back and visit again and see what she comes up with next!
Have a wonderfully sweet Sunday. xxxooo's...Tracy :)