Oh' Happy Days...Oh' Happy Days....
Hey Ya'll. Happy Easter Weekend Chicks!!!!
Here is a little something I made the other day in honor of Easter and because it was easy and because I don't have any time or much of a mind lately. I'll tell you more of our sad tales later.
First I'd like to show you what I received from our mailman today. Our mailman is really cool. He was also my MIL's mailman so he has know us all for several years. Everyday he comes with a new joke and a dog biscuit for all dogs on his route. Mattie however will not eat dog biscuits. Bad teeth, getting old and probably in general doesn't think it's a good idea to take treats from strangers. LOL.
Back to my goodies. I received this awesome handmade Origami Photo Book. Isn't it gorgeous, so spring like with this beautiful blue fabric with the lily of the valley print and it has an elegant wide satin ribbon for tying shut. I LOVE IT!!!!
The awesome, never stops Gina over at The Shabby Chic Cottage hosted Spring Fling.

A Day of Giveaways!
Thank you so much to both Gina of The Shabby Chic Cottage and Kristen of Pins and Papers.
The Spring Fling lasted a whole two days and was jam packed with giveaways from so many wonderfully creative sponsors. The give away I won was sponsored by Pins and Paper.
is one creative soul. I hope you'll go by and check out her blog Pins and Paper. She's posted some great tutorials.
You can see her photos really show off her work better than I can.
Look how beautifully it was package. The excitement is sky high now.
How did she know that this teal was our beloved Jacksonville Jaguars team color. Teal is BIG in Jax. Here's a little peek. My face already hurts from smiling.
Could this possibly look any more Easter-ie? Okay that's not a real word but it sure describes this oh' so Spring looking book.
Isn't this an elegant way to display your special photos. What a fabulous gift this would make!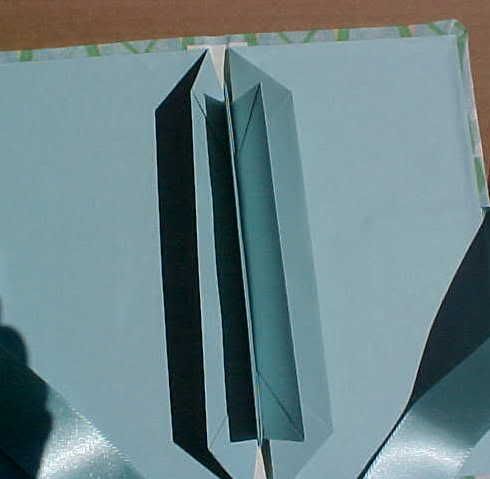 Here is a photo of my Grandson Zack on his first day at school a few years ago. Isn't he the sweetest thing you've ever seen? Well, I may be a little bias since I'm his Grandma but he's just the cutest, my handsome, sweetest boy I know.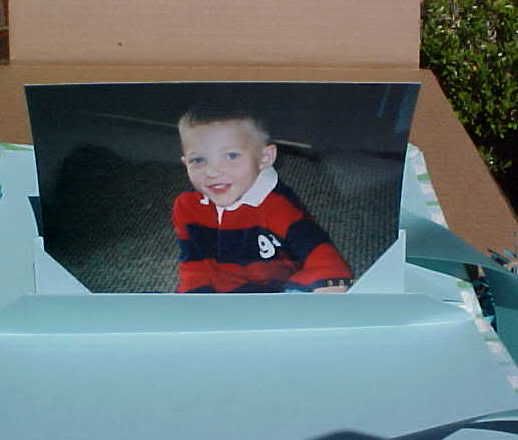 And here is a picture when he was about 1 and 1/2 years old. Granddaddy and I took him to the beach one late afternoon and he had a ball! Even though he move to NY soon afterward he and our Granddaughter Ki'a who was only 6 months at the time are definitely beach babies. They both LOVE the ocean. You can take the kids out of the ocean and South but you can't take the ocean and South out of them. LOL.
I made this wreath from pastel cup cake liners. I thought it was so cute. Of course it wasn't my idea and I'm so upset because I can't remember which one of you crafty gals I got this from. One of the terrific blogs I read had this tutorial and I wish I could give them credit. So if it is YOU or you know who it IS, please leave me a comment so that I can link to it.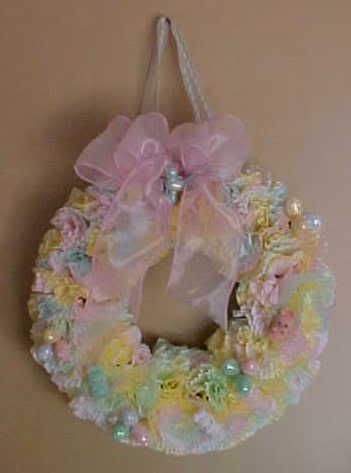 This was so simple and fun to do. Wouldn't it be beautiful in a baby's nursery? I can think of a dozen ways to use this idea.
And cheap affordable, oh yes! I got the green foam wreath at the dollar store for, drumroll please..... A Dollar! I had one package of the cupcake liners (probably for the last 10 years) and I bought one more package for around $1.50. All the little flocked bunnies, glittered eggs and mini wooden bird ornament came from the Humane Society Thrift Center for either 25 cents or 50 cents. I already had the shear pink ribbon and the sheer green ribbon. So for a total of approximately $3.00 I have a wreath that I'm really excited about. It was a fun project with a pretty outcome.
This very last photo was taken with a flash.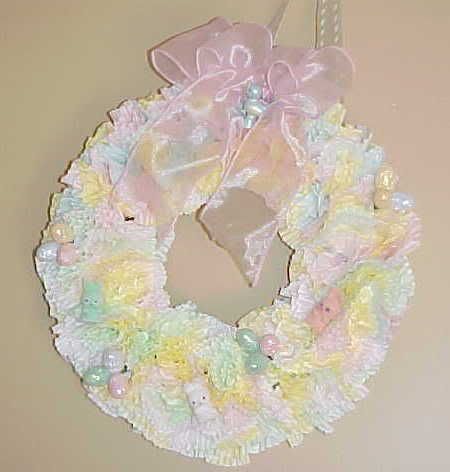 Again to whoever posted this tutorial - Thank you, thank you. I had so much fun. Please give me a shout out so I can give you credit.
I also have a question for all you smart bloggers out there. I still can't get my post photo to show up on my reading list. (In other words when you're on blogger looking at all the post you follow, like mine, you didn't see a photo with the teaser comment did you? If anyone can tell me where to go to correct this I would be eternally grateful.
Happy Easter to each and everyone of you.