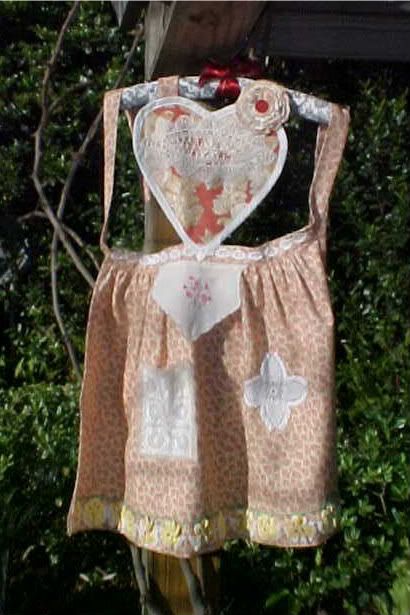 Hey Ya'll.
I can't talk type long. And if you haven't heard from me lately it's because of my MIL's failing health and a bushel load of other problems. Trying to craft in-between. I could use a lot of prayers right now. But I think about ya'll and all I'm missing all the time.
I've gotten several aprons made and here's # 2, a heart shaped bib apron. This one was made with a hand made pattern that I got off the web. I was trying to upcycle hence the old fabric,vintage lace doilies, vintage napkins and hand made fabric flower. The pocket is made out of a very thin cotton lining type fabric and another vintage doiley. I trimmed the bottom with the border of a round doiley that I cut.
Let me know what you think. And thank you to those who left the sweet comments on my Scottie apron.
Hugs and Love, Tracy :)