BzzAgent COVERGIRL. Sounds mysterious doesn't it.
Okay this is probably the guttiest thing I've ever done in my life. For some of you this might not be so gutsy but things change when you get older and you don't want to look in the mirror so much. When you do, well lets just say you realize you could use more help than you used to. Don't be too mean here, okay.
Here I am, in the raw. No makeup what-so-ever.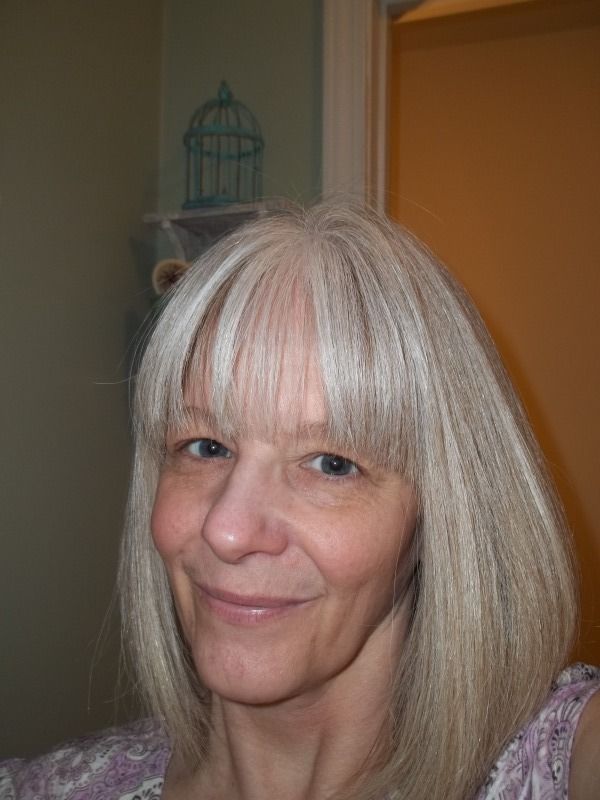 Never fear - COVERGIRL is here! This is me after using the COVERGIRL and Olay products I received from BzzAgent to review.
What do you think? Not quite so scary, right? After seeing my hair and I did decide it needed a little change so I blew it dry up instead of under and used a little blush, mascara and lip gloss. Even with those changes you can see the obvious difference in the way my skin looks on it's on. The coverage is wonderful. My skin looks so much better and I'm totally sold on it!
Love this makeup - I'm totally serious! Growing up, even as a teenager I only used high-end department store makeup. As I got older and decided price was a bigger factor I shopped around and tried them all. This is the first one in years that I've been totally thrilled with. And the price is totally affordable.
T

he Foundation and Powder have a really nice smooth and silky feel. I thought the coverage was superb. It felt light and not heavy or obvious at all, yet covered perfectly.
Will I use it again? You bet I will!! When this runs out I will be buying both the Foundation and the Pressed Powder. It gave me fantastic coverage and lasted for hours without getting greasy. I give it 5 out of 5 bzzes, and that's really good!
A LITTLE MORE INFORMATION:
Luminous coverage for a youthful, radiant look starts with a single pump. Science and beauty come together with the new COVERGIRL and Olay Tone Rehab 2-in-1 Foundation and the COVERGIRL and Olay Pressed Powder.
It's no ordinary make-up. I know you've heard that one before but I wouldn't say it, if I didn't think it was so. The proofs in the pudding I mean picture, as you can see.
Thanks to COVERGIRL and Olay, it smooths the appearance of rough surfaces and gives your skin a radiant finish. COVERGIRL and Olay Tone Rehab 2-in-1 Foundation also contains known skin conditioning ingredients to hydrate your skin and help improve skin tone over time.
You can't turn back the clock on aging (oh' if only dreams like that came true) but you can reduce the signs. With COVERGIRL and Olay Tone Rehab 2-in-1 Foundation you can instantly cover discolorations and age spots. And finishing your look with a soft layer of COVERGIRL and Olay Pressed Powder will help brighten your skin tone.
COVERGIRL and Olay Tone Rehab 2-in-1 Foundation is available at all major retailers, with a suggested retail price of $13.99. You can also visit covergirl.com to get shade matched, discover tips and looks, and learn more.
I've also been given some $2.00 off coupons to share. Just let me know if you'd like one.