Remember my Great Clips Giveaway a few weeks ago? Well included in that giveaway was a gift certificate for a free haircut and I finally got to go get mine cute. And it feels so much better now.
The stylist that cut my hair was wonderful and she didn't even know that I was there because of Great Clips. It was kind of like a secret shopping mission for me. I just wish I could remember her name. She really took her time with me. No kidding, she spent over and hour on my hair. She was very precise and had the sweetest personality. On top of that there was no wait at all!
I've spent big money on my hair before and can promise you I didn't get this kind of attention to detail. I love that she listened to me and left the from long enough to pull back in a clip when I need to (sometimes it just drives me crazy. Other days I can leave it down for a little more pulled together look. The backs off my neck so I stay nice and cool in this tropical climate all summer. Plus it's so easy to style. In my book - that's a must.
This is my cousin Greg with me. We grew up playing together and have been close ever since. Greg was sweet enough to go with me and Neil to Callahan to get some work done. We stopped by the cemetary where our Grandma and Granddaddy are buried. It was the first time I've been there since I was 15 in 1975. Our grandparents died only 2 months apart.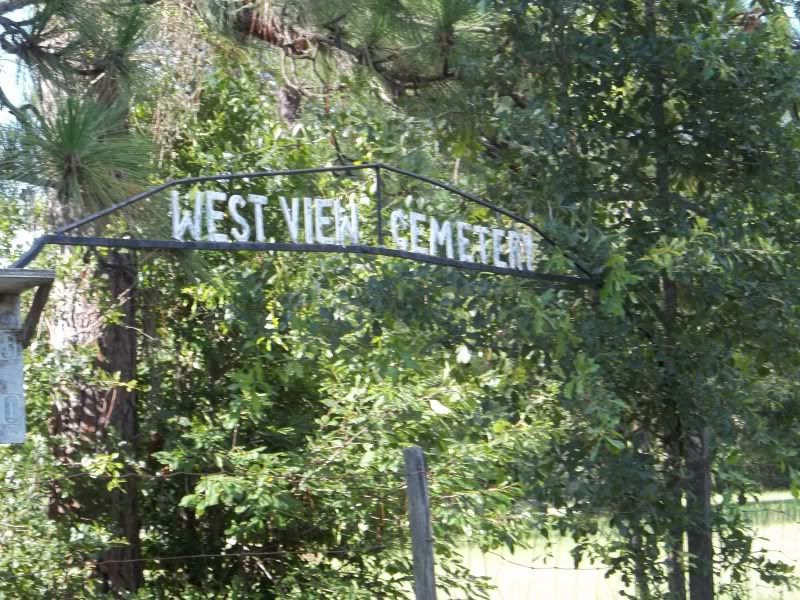 West View Cemetery Entrance
How do you like the paint we chose for the office? Just kidding! Oh' my this was some paint job. We have an office building in Callahan about 40 mins from where we live. The last renter was a young lady who made and sold jewelry. This is a LITTLE bold for my taste. Hot pink with Zebra duct tape as border around the baseboards, ceiling doors and window.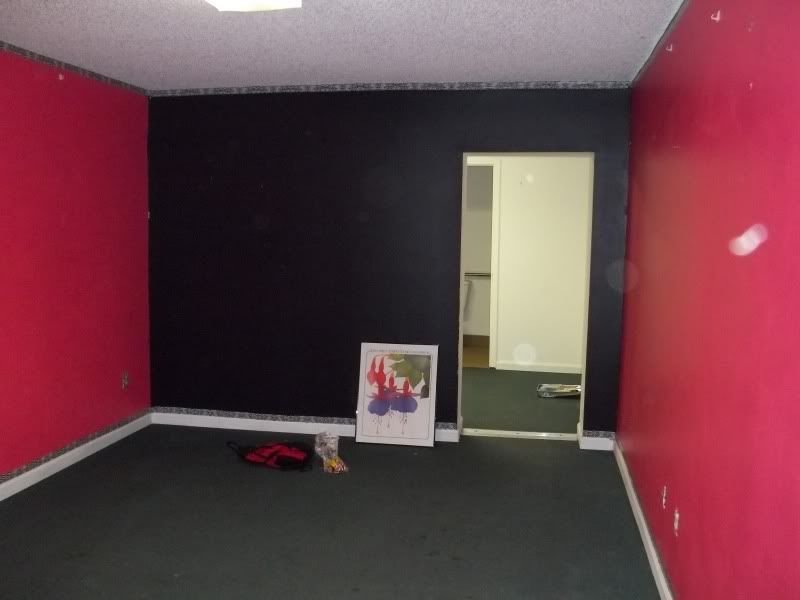 What about the black wall as an accent? Eeekkk.....We had our work cut out for us. It ended up being a long day. We painted to coats of Kilz on and then one coat of paint and it covered like a charm.
My biggest mistake of the day was NOT getting an after picture. By the time the painting, vacuuming, mopping and cleaning the bath was done, oh yeah and loading the car, we were all whipped. We are so grateful that Greg spent his day helping us. We would have been there way longer if we had done it by ourselves.
We weren't too tired to all go home and then go back out for dinner at the Golden Coral that night. We had went to Callahan on Wednesday, and Thursday was Greg's birthday. I had over done on Wednesday and couldn't even get out of bed Thursday so we had to have a late celebration.
Saturday I was back over at the other house painting, while Neil worked on replaces the bath subflooring. We've still got more painting, plumbing, flooring, and yard work to do. My sister and her family are moving into it. They're coming from TX and should be here Wednesday. We can't wait. I think it's going to fly by because we have so much work to do. It's only a little over a mile away from us. Stayed tuned for more on that.
Have a blessed Sunday Ya'll....Tracy
P.S. Don't forget to enter my giveaways on the right side bar. Just click the picture to go enter. The VTech phone is awesome!!!