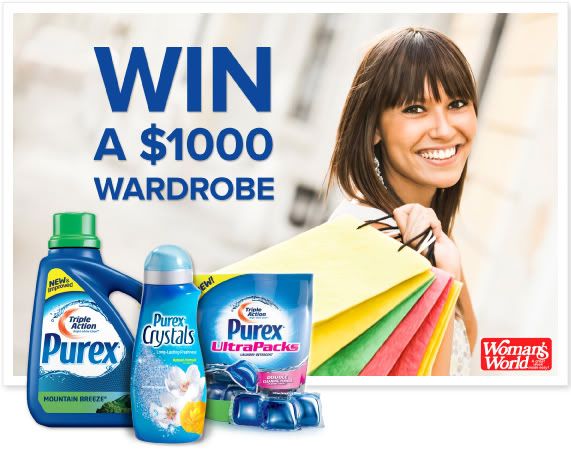 I'm Proud to be a Purex Insider because I honestly do use their products all the time.
Wanna know a secret? I was a loyal Downy Fabric Softener user until Purex came along with

Purex Crystals

. This was the about the same time I became a Purex Insider. I honestly prefer the Purex Crystals. I love the smell.
My favorite is

Fresh Spring Water

. Even better and more important is that I could finally start using fabric softener when I wash my towels. It doesn't leave the waxy film that prevents your towels from absorbing moisture. Isn't that GREAT!! Since this came out, my old fabric softener also came out with a bead style but I kid you not - I really don't like the scent of those as much and I definitely like the money I save with

Purex Crystals

.
By the way - Purex didn't ask me to share these thoughts with you. It's just that when I find a product that I really LOVE I want others to know about it too. I'm all about saving money but not at the expense of getting a lesser product.
I'll be sharing several Purex opportunities with you today, like this one that's expiring soon.
Win a $1,000 "Fresh and Clean with Purex" Wardrobe!
Start out Summer with your fashion foot forward, and keep it fresh with a collection of Purex detergent! Try the latest formulations of Purex® UltraPacks™ and Crystals™ that will leave your new clothes clean and fresh-smelling all season long.

Ending at 3:00 p.m. PST on June 18, 2012

Disclosure: As a Purex Insider I am provided this information. All opinions are honestly my own.