by Judith MacNUTT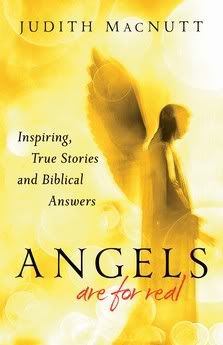 I've always loved hearing heavenly miracles. You know the kind where you know God's hand or the hand of an angel has been involved in someones life. I believe we still experience miracles today and that angels do exist. That's why I wanted to review Judith MacNUTT's book 'Angels are for real'.
First, a little about the author:
Judith MacNutt worked as a psychotherapist in private practice and at several hospitals in Boston. She has since started, with her husband, a unique and cutting-edge healing ministry, Christian Healing Ministries.
Judith starts the book off with her own story of experiencing her own divine encounter. Her book is written to share more with us than just the re-telling of others experiences. Judith tries to help the reader understand the role of Angels with chapters like:
What Is an Angel?

How Angels Appear

Angels in the Kingdom of God

The Classification of Angels

Guardian Angels

Angels and Healing

Unholy Fallen Angels

The Veil Is Thin
The writer talks about the jobs of angels and their primary responsibilities. She uses scriptural references to provide examples of angel's primary responsibilities. Throughout the book Judith quotes Bible scripture to help the reader better understand where her opinions come from. She has obviously put much effort into research about Angels.
Whether you believe or come to the same understanding as the writer the book serves as encouragement and a jumping off platform for you to do your own research. As with any book, it's meant to be thought provoking, allowing you to make your own final decision.
A final thought:
I was looking for a book with feel good stories. This book does have that but it's more in depth than that. It's not a 'Chicken Soup for the Soul' kind of book. The book requires you to think a little more and is to help you better understand Angels and there purposes. Just so you know.