I will be so happy if I ever get that much promised craft/sewing room. For the longest time I've had my fabrics just folded laying on the shelves. But not anymore.
Yesterday and I do mean all of yesterday, I made mini bolts and folded fabric. Really, there was a point where I questioned my sanity and thought I would never see the end of this project.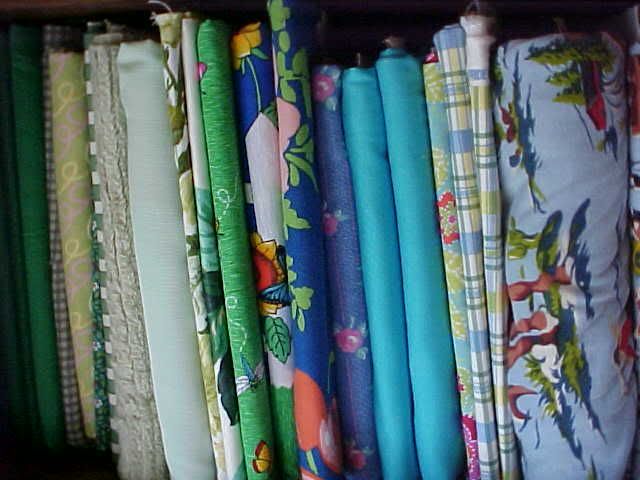 When I had the fabric originally stacked on the shelf it was a big pain in the butt. Every time I wanted to look at the fabric I would have to pull it out and then every other fabric wanted to come with it. It was almost impossible to keep it color organized, which I'm a little obsessive with in the closet too.
I was really surprised to find out how much less room this took up. More fabric actually fit on the shelves. This makes it so much easier to get to and to replace the fabric in it's perfectly colored spot.
To do this, I just started out by planning way too little time, but with my schedule of do whatever, whenever I was able to knock it out in one day. I then took Fed Ex (shhh, don't tell them) boxes and cut into the height of my shelves and smaller then the width (remember fabric room) to make my bolts. I then folded the fabric the appropriate height and wrapped it around the bolt. For those big pieces, like the cowboy flannel sheet (I love recycling) I used 2 bolts and started wrapping with one bolt on each end and meeting in the center like a book. Worked perfect. So there you have it, one full day of fabric folding + one happy, more organized me = future easy-peasy crafting days. AAAHHHH.
What have you been organizing lately?
Have a blessed day y'all......Tracy :)
[Jesus said] " I am the vine; you are the branches. If a man remains in me and I in him, he will bear much fruit."
I've linked to the following parties: