I've got some online goodies coming up this week. Neil went to an auction yesterday and brought these 2 antique photograph albums home. He will be selling these in his ebay store later but I told him first I would need to scan them all. The albums themselves are in worse for wear condition but there are a lot of photographs. The only dates I found so far I think were around 1878. Some of the photos are missing ~ I'd love to know what they were. Probably civil war soldiers because those sale for quite a bit more. Even the backs of these are really neat. I love how decorative the writing was during this period. It looks like the photos were mostly done in New York. I'm waiting for Neil to get them out of the frames in the books because the pages are so fragile and I don't want to hear how I tore it up. Once I scan them I put them up so anyone who wants to save to use can. Looks like they'll be wonderful for altered art. Keep watching I'll be posting them this week. Below you just see some photos I took. There are a lot more and scanning hopefully will be much better.
Have a great day ya'll....Tracy :)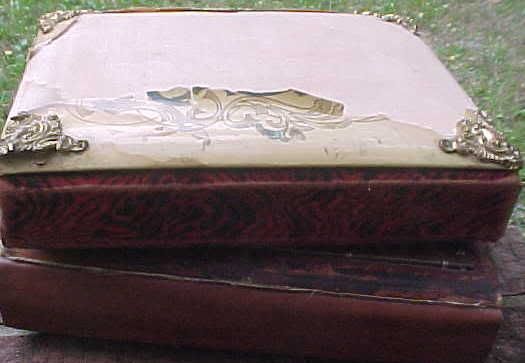 You can see how ornate these books would have been just from the corner metal pieces. It's a shame that the celluloid is all broken and missing. The books are covered in velvet & leather.